Publiés par Yasmina on 2021 Oct 17th
10 Incroyables Idées de Costumes Effrayants pour Halloween
N'adorez-vous pas simplement les fêtes d'Halloween? Ils sont la combinaison parfaite d'effrayant et de plaisir! Halloween approche, vous devez donc être à la recherche du parfat costume d'Halloween! Vous vous amuserez tellement cet Halloween avec ces looks diaboliques, étranges et effrayants. Mettez simplement le costume, prenez un couteau taché de sang, pratiquez votre drôle de tête et vous n'aurez même pas à parler pour effrayer tout le monde sur votre chemin! Jetez un œil à quelques-uns de ces costumes effrayants que vous pouvez utiliser comme source d'inspiration!
---
1. Illusion Optique
Via @designdain sur Instagram
Qui a dit que les costumes d'Halloween devaient être sanglants ou macabres pour être effrayants ? Nous aimons cet incroyable travail de maquillage d'une peinture d'illusion sur le visage de l'artiste, qui crée un profond sentiment d'inconfort lorsque nous le regardons trop longtemps ! Pouvez-vous deviner quels yeux et quelles lèvres sont les vrais ?
---
2. Les étrangers
Via @falsetomynature sur Instagram
Écartez-vous, masque de « purge » ! Avez-vous vu le film d'horreur culte, Les étrangers, réalisé par Bryan Bertino ? Non seulement ce film est absolument effrayant, mais il contient une grande variété d'idées de costumes géniales, y compris un thème génial pour un costume de groupe ! Choisissez simplement votre masque préféré dans le groupe et trouvez les vêtements précis à l'écran, et vous serez prêt à effrayer tous ceux que vous rencontrerez!
---
3. Médecin de la peste
Via thebash.com/articles/scary-halloween-costumes-with-masks
Éloignez-vous du Covid-19 ! Nous aimons l'étrangeté des médecins de la peste et leurs tenues classiques, historiquement exactes depuis l'époque où la peste bubonique a balayé le monde. Saviez-vous qu'un tiers de la population européenne a été anéanti par cette grave peste noire ? Bien que nous sachions que cela n'arrivera pas cet Halloween, instillez la peur chez ceux qui vous entourent avec ces incroyables costumes de groupe assortis de médecin de la peste !
---
4. Déguisements de clown effrayants pour femmes
Via FrightfulLenses on Pinterest
Bien que de nombreux costumes de clown effrayants pour hommes soient accompagnés de masques effrayants, de chemises éclaboussées de sang, etc., la plupart des costumes de clown effrayants pour femmes ne sont pas vraiment effrayants. Cela signifie simplement que vous devrez faire preuve de créativité avec votre maquillage et vos accessoires, comme ce cosplayeur qui a transformé une tenue de clown lumineuse et colorée en cauchemars avec juste un peu de maquillage. Vous n'êtes pas maquilleur? Ajoutez un peu de faux sang à certains pochoirs de maquillage de clown et vous serez prêt!
---
5. Déguisements de clown effrayants pour hommes
via Lacey Cooper on Pinterest
Ces cosplayers ont opté pour le bricolage - et cela a payé. Si vous trouvez les bons accessoires de clown, vous pouvez les utiliser comme base pour un superbe costume de clown effrayant. Les costumes illustrés ici sont assez simples, mais ils fonctionnent. Des pompons, un maquillage sanglant et un chapeau de clown cool sont ajoutés à de simples chemises blanches pour un effet vraiment effrayant. C'est une excellente idée pour un costume de groupe! Vos amis ne sauront pas ce qui les a frappés.
---
6. Déguisements de clown effrayants Pennywise
Via Pikawil on Wikimedia Commons via Flickr, CC BY-SA 2.0
Vous flotterez aussi! La dernière tendance en matière de costumes de clown effrayants? Costumes Pennywise, bien sûr. Le film de 2017 Il a inspiré les cosplayers du monde entier à recréer la célèbre tenue de clown, comme ce talentueux cosplayer du Comiccon de Montréal. Vous pouvez avoir votre propre costume de Pennywise facile avec notre package unique, des costumes d'Halloween simples. Si vous le souhaitez, vous pouvez même vous déguiser en d'autres personnages comme la petite Georgie!
---
7. Joker
Via hongkiat.com/blog/realistic-halloween-costume-cosplay/
Bien que nous sachions que les costumes de Joker ont toujours été incroyablement populaires, en particulier après The Dark Knight Rises et Joker, nous adorons cette itération d'un masque de Joker absolument terrifiant, qui montre sa bouche ouverte et coincée dans un sourire effrayant, rappelant la bande dessinée , La blague meurtrière. C'est une idée incroyable pour tous ceux qui veulent s'habiller comme le célèbre Joker, tout en recherchant une touche unique et créative.
---
8. Déguisements de clown effrayants Jigsaw
Source: Pikawil on Wikimedia Commons via Flickr, CC BY-SA 2.0
Le monde du film d'horreur ne manque certainement pas de personnages de clown effrayants dont vous pouvez vous inspirer. Ce cosplayer du Comiccon d'Ottawa 2014 est habillé en Billy the Jigsaw Puppet, par exemple. Les films Saw sont parmi les films d'horreur les plus emblématiques de notre temps - ils feraient un grand marathon cinématographique la nuit d'Halloween! Tout ce dont vous avez vraiment besoin pour ce costume de scie effrayant est un masque et un costume.
---
9. Déguisements de clown effrayants de groupe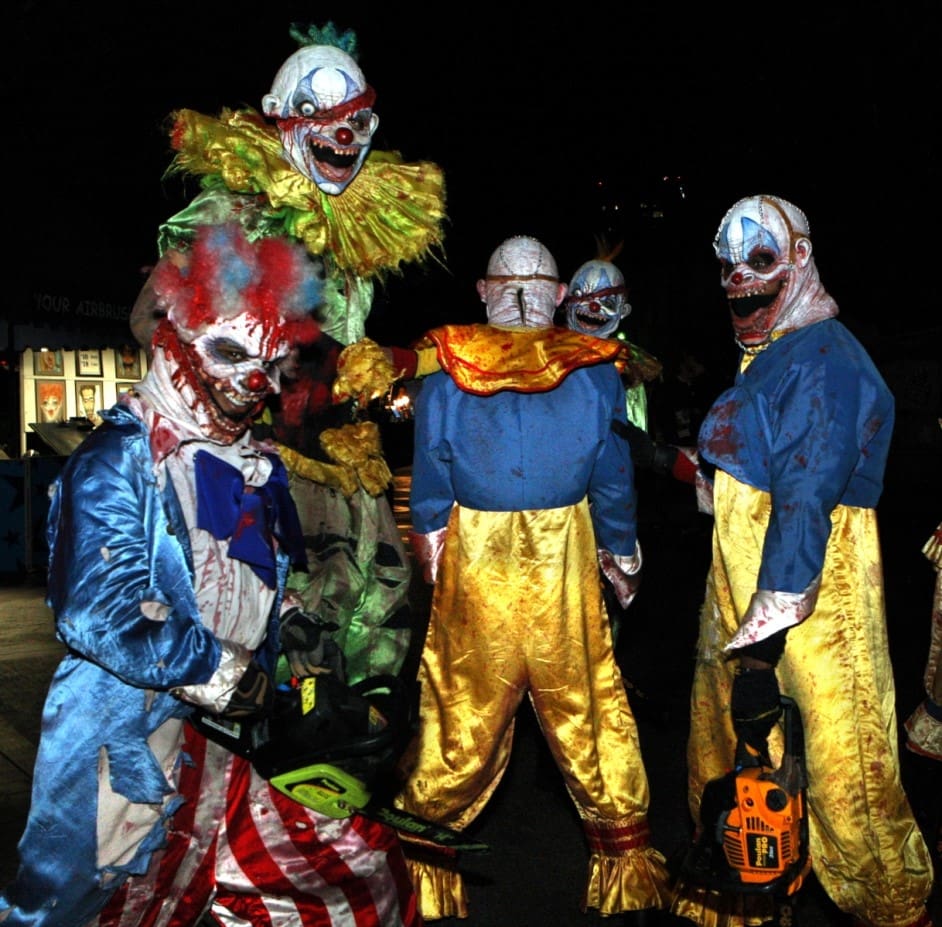 Source: D.Begley via Wikimedia Commons, CC BY-2.0
Qu'y a-t-il de plus effrayant qu'un costume de clown maléfique? Des tas de costumes de clown maléfiques! Suivez la tendance et jetez un œil à nos costumes de clown effrayants pour que vous et vos amis puissiez vous habiller comme ces fêtards, photographiés ici habillés en clowns diaboliques lors d'une soirée PDC 2008 à Universal Studios. Ce costume de clown effrayant de groupe est si simple et amusant! Vous pouvez également consulter les costumes de notre couple pour des looks encore plus assortis.
---
10. Maquillage Fantôme
Via pinterest.ca/costumebliss/creepy-costume-ideas/
Bloody Mary! Cet incroyable maquillage effrayant de style fantôme est à la fois beau et effrayant. Bien que nous sachions que tout le monde n'est pas extrêmement doué en maquillage, ce look de maquillage génial n'est pas trop difficile, car il ne nécessite qu'un œil charbonneux noir dégoulinant et des lèvres noires assorties pour être reconnaissable. Faites un effort supplémentaire avec des lentilles blanches effrayantes comme illustré ci-dessus et un costume de fantôme, et nous sommes sûrs que tout le monde autour de vous dira boo !
---
Nous espérons que ces costumes effrayants vous ont inspiré! Cet Halloween, venez chez Oya Costumes Canada pour obtenir les meilleures offres au pays. On t'attend! Faites juste attention au trottoir que vous décidez de descendre. Et n'oubliez pas de nous taguer sur les media sociaux si vous choissisez de joindre cette tendance angoissante!
Vous Aimeriez Aussi
[[1215]]